Cloquet City Council tables PLA decision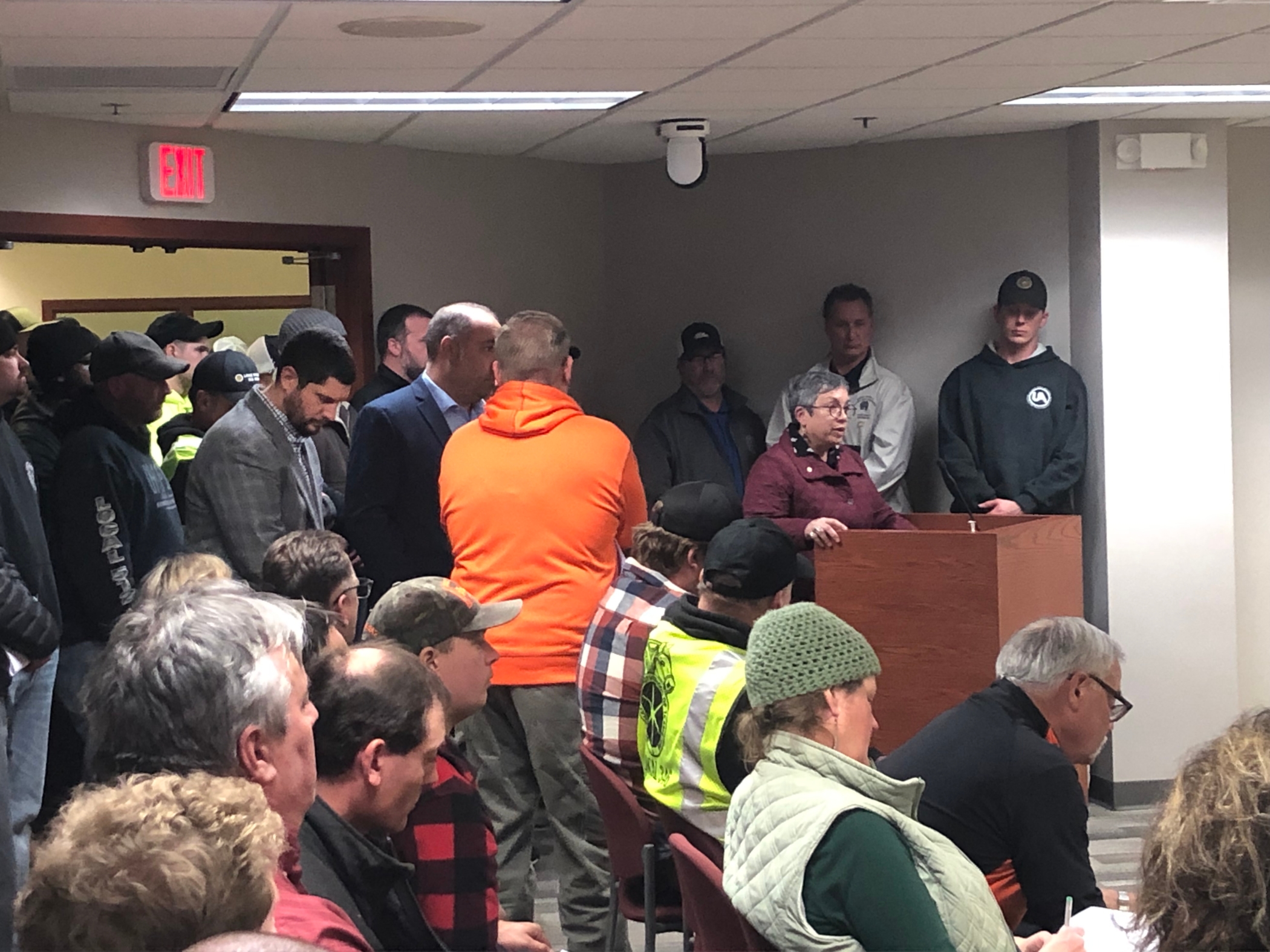 Minnesota AFL-CIO President Bernie Burnham, surrounded by Building Trades members and allies, speaks at the Cloquet City Council meeting on March 7, 2023.
Members of the Building Trades and their allies swarmed the Cloquet City Council meeting on March 7 as the council was scheduled to consider dropping the city's PLA ordinance for private projects.
It was standing-room-only in the meeting room, with dozens more waiting in the common area outside; at least 100 union members and allies were there.
The Cloquet City Council will be hearing the proposal to eliminate the ordinance mandating private PLAs on projects above a certain budget amount at its next meeting: Tuesday, March 21. The Duluth Building Trades are asking union members and their allies to attend the meeting to show their support for Union jobs and standards, and the families those standards support. Come at 4:30 p.m. for a rally; the meeting is Tuesday, March 21, at 6 p.m. at City Hall in Cloquet, 101 14th Street. Contact Building Trades President Andrew Campeau for more information: 218-727-2199.
The council voted to table the decision after Labor leaders spoke during the public comment, asking for a chance to have better conversations with the economic development authority.
"At the November meeting, we told you we would come before you at any time to meet, you've had two or three meetings since, and no one has reached out to the Building Trades," said Dan Olson, business manager and secretary-treasurer at Laborers 1091.
Holly Hansen, community development director for the city of Cloquet, defended her push for dropping the ordinance by saying there were businesses asking for it to be dropped, but that she couldn't provide details because of confidentiality. "This is about considering widespread feedback from the Cloquet community. My job is to share that feedback because there are two sides to every coin, business and Labor."
City attorney William Helwig added, "This is not a legal issue, but an economic issue."
Former state representative Mike Sundin, also a retired member and former officer in Painters Local 106, pushed back on that idea. "What we're talking about here is a moral issue," he said. "You're telling my people they don't count. They are members of your community and deserve a full hearing."
Minnesota AFL-CIO President Bernie Burnham highlighted the important role union Labor can play in diversity initiatives during her time at the microphone. "Unions are vital to our communities; they build strong communities."
City council member Sheila Lamb said she had issues with changing the ordinance without more information. "I have a lot of questions — how many might have a reduction in income due to this decision? I need some evidence."
The council voted to table the discussion. Over the sounds of applause from the crowd outside the door, Andy Campeau, Duluth Building and Construction Trades Council president, asked Hansen to set up a time when they could meet and have a better conversation about the issue.
Hansen expressed doubt about whether she would be able to provide the kind of data both the Trades and the council are looking for, again because of confidentiality issues. "I will be happy to talk but it does not resolve the issue that businesses want to remain confidential."
Earlier in the meeting, Hansen cited a letter from Sappi describing the private PLA requirement as a "constraint." The 2017 letter was signed by then-managing director Mike Schultz, who has since gone on to a national position in the company.
This is a developing story.